Marilu Norden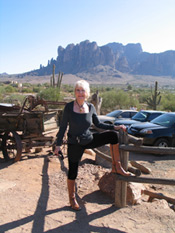 Born in Calais, Maine to a minister father and a dietician mother, Marilu Norden showed an early interest in art when, at age four, she rendered with her crayons a red schoolhouse against a blue sky on the floral-patterned wallpaper of her room. Despite the then negative reaction from her parents, she knew art was a satisfying way to express herself. Later, in school plays, she discovered the joys of dancing, singing, and acting in front of an audience. Studies in art at Syracuse University as well as with many estimable instructors throughout the years helped refine her artistic talents.
In Hollywood, as a young single mother of two small children, she worked as a fashion model and, as a vocalist with big bands, made some recordings at Capitol Records. She also appeared in print jobs, films and television commercials. Marrying a clinical psychologist and moving to La Jolla, California, Marilu soon had three more children and became active in local theatre, appearing in major roles in the Starlight Opera and the Old Globe Theatre in San Diego.
In Del Mar, California where she, her husband, and family lived for twenty years, she founded and directed her own theater, and helped in the foundation of two others, continuing her acting and also producing. In Santa Fe, New Mexico, she painted professionally and performed onstage as well as in film and television. She was an active member of the steering committee for the Greer Garson Theatre Center at the College of Santa Fe and served on the boards of two other theaters for the ten years she and her husband lived in The City Different.
It was in Santa Fe also that she commenced the writing of her first novel, UNBRIDLED: A TALE OF A DIVORCE RANCH, based on personal experience. Now widowed and living in Scottsdale, Arizona, Marilu continues to paint, exhibit and sell her art.