June 15th, 2015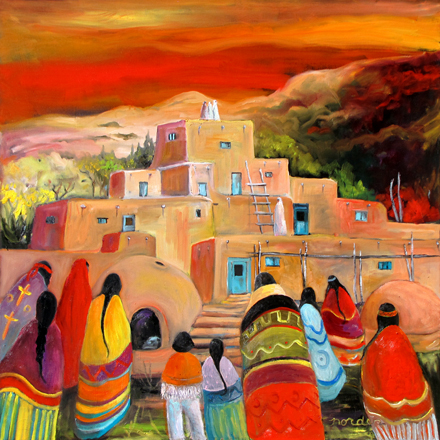 above: "Red Dawn at the Pueblo" by Marilu Norden, oil on canvas, 36″ x 36″, $3500
I've been very busy working away in my new studio in Phoenix, finishing three large canvases—and three smaller ones—just since the 1st of May!
On May 2nd, I had openings of my work at two more galleries in Arizona: one in Glendale (Thomas Kinkade and More Gallery at Arrowhead Towne Center, between Dillards and JCPenney), and the other in Mesa (Thomas Kinkade Gallery in Superstition Springs Center).
A large work of mine, "Pueblo Sunset à la Gigi," which had been part of the solo show I had back in 2008 in Tucson, "Sunsets and Show Tunes," actually sold last month through Wild Holly Gallery in Carefree, Arizona, who had the painting on consignment, and, thanks to an interior designer working with the gallery, "Pueblo Sunset" is now going to grace the wall of someone's lovely home! An auspicious beginning for 2015!
My business manager, Fred Smith—an amiable former gallery owner himself—is working with the Mayo Clinic here in the Phoenix/Scottsdale area to sign me for future exhibitions at their two area medical campuses of my Southwest-themed paintings and for me giving a talk in January 2016 in their auditorium about my art, my life, and about "Creative Aging" (seeing as how I will have reached the high-water mark of "90-years-young" in July of this year)! That fact alone inspires me to fill up with supersonic, high-octane determination to grow my talent and paint as though my life depends upon it … which it does! It's so easy to fall off the saddle, and I, like so many of us fallible humans, have mucked about in the mud of good intentions, sometimes rising to accomplishment, but too often not. So I feel fortunate to be given the opportunity of creative expression at this juncture and will "keep on keeping on" as well as any of us can on this racetrack we call life.